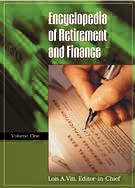 Encyclopedia of Retirement and Finance
Lois A. Vitt, Editor-in-Chief
Consulting Editors:
E. Craig MacBean and Jurg K. Siegenthaler

Associate Editors:
Jamie Losikoff-Kent, Candace D. Jenkins, Mary Helen McSweeney, Julie Overton, Sandra L. Reynolds, M. Shelton Smith, Denise Talbot-White

Managing Editors: Ingrid Carlson, Jay Schweig
Introduction by: Dallas L. Salisbury

Forward by: Yung-Ping Chen.

ISBN: 0-313-32495-6
Purchase individual copies at Amazon or Barnes & Noble
Contact ISFS.org for bulk orders
_________________
About the Editors
EDITOR-IN-CHIEF
LOIS A. VITT, Ph.D., is Chair and Founding Director of the Institute for Socio-Financial Studies (ISFS), Middleburg, Virginia. Dr. Vitt has a background in business and finance for both entrepreneurial companies and investment banking firms, and she is a consultant to financial services companies and community organizations. She has conducted research on consumer decision making, financial literacy education, consumer health finances, the finances of retirement and aging, and financial instruments and organizations. Dr. Vitt has conducted studies for the Employee Benefit Research Institute (EBRI) and the Consumer Health Education Council (CHEC) on Consumer Health Care Financial Education and Consumer Health Values, and she also directed Personal Finance and the Rush to Competence: Financial Literacy Education in the U.S. for the Fannie Mae Foundation. She has developed interdisciplinary curricula and taught undergraduate and certificate courses in the social psychology of money and finance and the finances of aging for American University and Catholic University of America. Dr. Vitt pioneered the development of real estate financing vehicles for the capital markets, and her research on the beneficial effects of homeownership has been presented to audiences around the world. She received an Executive M.B.A. from Pace University, New York, and M.A. and Ph.D. degrees in Sociology at the American University in Washington, D.C.
CONSULTING EDITORS
E. CRAIG MacBEAN is a financial gerontologist with expertise in financial life planning, frailty planning, long-term care insurance, annuities, and life and health insurance. He is skilled in sales management and marketing financial products and is a consultant on long-term care issues. Mr. MacBean has broad knowledge of aging policy and the finances of aging and is a member of the Board of Directors of the National Council on Aging (NCOA). He also serves on the Board of Advisors of the National Institute on Financial Services for Elders (NIFSE). He is an author of Thriving after 55: Your Guide to Fully Living the Rest of Your Life (2000) and is an accomplished columnist, speaker, and educator on topics that span the finances and inner-life experiences of aging. Mr. MacBean is a senior fellow of the Institute for Socio-Financial Studies. He is a graduate of Wesleyan University, Middletown, Connecticut, and completed three years of study at Union Theological Seminary, Richmond, Virginia.
JURG K. SIEGENTHALER, Ph.D., is Professor Emeritus of Sociology at American University. His research and teaching earlier at Cornell, the University of California at Los Angeles (UCLA), and Rutgers have encompassed the sociology of work and organizations as well as social policy analysis. Interests in work and retirement issues connected his previous specializations with social-gerontological topics. Among his stud-ies in recent years are an international comparison of rights of older adults, a review of innovations in different social security systems in response to population aging and other social changes, an examination of how systems of social protection provide for older single women, and a review of flexible work schedules and older workers. He has been a visiting researcher with the International Social Security Association and the U.S. Social Security Administration. A special interest of his is the relationship between aging re-search, policy, and professional practice as the field of financial gerontology develops.
ASSOCIATE EDITORS
CANDACE D. JENKINS is a research associate at the Institute for Socio-Financial Studies. She edits and manages documentation for over 20 Department of Defense (DoD) and Veterans Health Administration (VHA) contracts for the Military Health System at Integic Corporation where she is the Manager and Editor in the Documentation Department. She is accomplished in training, auditing, and writing quality assurance policies and procedures. She graduated summa cum laude with a B.A. in English from Shenandoah University and is pursuing graduate education in English with a concentration in Professional Writing and Editing at George Mason University.
JAMIE LOSIKOFF-KENT is a Senior Research Associate and Administrative Officer with the Institute for Socio-Financial Studies. She is a contributing researcher and author of the study Personal Finance and the Rush to Competence: Financial Literacy Education in the U.S. (2000), published by the Fannie Mae Foundation, and Consumer Health Care Finances and Education: Matters of Values (2000), published by the Employee Benefit Research Institute (EBRI). Ms. Losikoff-Kent has over 20 years of experience in project administration, planning, and resource development with local governments, regional agencies, and nonprofit organizations in the areas of community and economic development. Ms. Losikoff-Kent has a special interest and expertise in community and housing development issues, having worked as Executive Director of Habitat for Humanity in Charleston, South Carolina, and in Virginia and as Senior Project Director for the Christmas in April Program of Northern Virginia. Ms. Losikoff-Kent received her undergraduate degree from Antioch University. She earned her M.A. at the Danish National School of Design in Kolding, Denmark.
MARY HELEN McSWEENEY, Ph.D., is the Director of the Undergraduate Program in Health Administration and the Undergraduate Concentration in Long-Term Care at the University of Scranton in Scranton, Pennsylvania. Her professional expertise is in the areas of health care finance, long-term care issues, and employee benefits, and prior to her academic career. Dr. McSweeney served as an Economist and Consultant for Equitable Life's benefits division. She has written and researched extensively and is the author of the book Long-Term Care: An Emerging Employer Benefit (2002). She was a 1998 International Foundation of Employee Benefit Plans Research Fund recipient for her research on employer-sponsored long-term care insurance. Dr. McSweeney received a B.A. from Wellesley College and an M.I.A. and M.Phil, from Columbia University. She earned her Ph.D. in Economics from the Graduate Center, City University of New York. In addition, she is a Certified Employee Benefits Specialist (CEBS) and Certified Benefits Professional (CBP).
JULIE OVERTON, M.S.G., M.H.A., is the Program Manager of the National Resource Center on Supportive Housing and Home Modification at the University of Southern California (USC) Andrus Gerontology Center. She is a supportive housing and long-term care specialist whose primary expertise is in the area of home modification. Her most recent research has focused on analysis of state home modification efforts, specifically California, and ascertaining the environmental coping strategies of caregivers and care recipients via focus groups. Ms. Overton teaches two online courses "Home Modification: The Basics and Beyond" and "Building Home Modification Awareness through Community Building" as part of the Center's Executive Certificate Program in Home Modification. Ms. Overton has been the Program Manager for several Administration on Aging-funded National Resource Centers at the USC Andrus Gerontology Center over the past 14 years. She has published over 20 reports and articles including "The National Directory of Home Modification and Repair Programs" and "Critical Factors Affecting the Growth of Assisted Living" and presented over 50 workshops on home modification and accessibility issues to professionals, consumers, and caregivers. Ms. Overton has organized and led several local home modification coalitions in California, composed of professionals and consumers dedicated to improving the local housing stock. Ms. Overton is a founding member of the National Home Modification Action Coalition, a group of national associations and experts dedicated to increasing the availability and awareness of the importance of supportive home environments. She has a Master of Science in Gerontology and a Master of Health Administration from the University of Southern California.
SANDRA L. REYNOLDS, Ph.D., is Associate Professor of Gerontology at the University of South Florida in Tampa and an expert in banking and the finances of aging. She teaches sociocultural aspects of aging, and business management in an aging society. At the graduate level, she teaches research methods and population aging. Dr. Reynolds is a Fellow of the Gerontological Society of America and serves on the Board of Advisors of the National Institute on Financial Services for Elders (NIFSE). Her research has included disability among older adults, guardianship, advance directives, financial exploitation of older adults, health care trends for older adults, and working life expectancy for today's workforce. As a former Trust Banker, she acted as a guardian of the estate for many clients over the years. Dr. Reynolds received her undergraduate degree in Sociology from the University of Connecticut, a degree in Trust Banking from the New England School of Banking at Williams College, and her Ph.D. in Gerontology from the University of Southern California, Andrus Gerontology Center.
M. SHELTON SMITH, Ph.D., is a Senior Fellow at the Institute for Socio-Financial Studies and an Independent Consultant in Social and Health Psychology research. Dr. Smith has expertise in research design, measurement, and statistical analysis and has had extensive experience coordinating research programs and teams. Prior to starting her consulting practice, Dr. Smith taught Psychology at the University of Northern Iowa from 1992 to 2000, first as an Assistant Professor and then as an Associate Professor. She was the Coordinator of Research at Meharry Medical College's "I Have a Future" project, a longitudinal teenage pregnancy prevention study. Dr. Smith received her Ph.D. in Social Psychology, with an emphasis in Health Psychology, from Vanderbilt University in 1988.
DENISE TALBOT-WHITE, M.A., is the Gerontology Specialist at the Mature Market Institute at MetLife in Westport, Connecticut. The Mature Market Institute is MetLife's information and policy resource center for issues concerning aging, retirement, long-term care, and the mature market. The Institute provides research, training and education, consultation, and information to support MetLife and its business partners. Ms. Talbot-White is the editor of QuickFacts, the Institute's monthly newsletter, writes consumer publications that focus on caregiving and long-term care, and serves as a trainer on the mature market. She is currently on the West Hartford, Connecticut, Senior Citizen Advisory Commission and served on the Delegate Council for the National Institute on Financial Issues and Services for Elders (NIFSE), a constituent group of the National Council on the Aging. Ms. Talbot-White has been in the corporate environment for a number of years and prior to joining MetLife in October 1999 was employed as an Advertising Assistant for a major health insurance company, working in the Medicare/ Health Maintenance Organization product area. She received her B.S. from Central Connecticut State University, New Britain, Connecticut, and her M.A. in Human Development and Gerontology from Saint Joseph College, West Hartford, Connecticut.
MANAGING EDITORS
INGRID CARLSON, M.S.F.S., is a Research Fellow, Project Director, and Strategic Development Consultant at the Institute for Socio-Financial Studies. Ms. Carlson has worked in strategic development and as a business planning associate for consulting firms and not-for-profit groups, including a foreign policy media program, a human rights media awareness group, and the United States Equestrian Team. Her expertise includes spearheading new initiatives, developing strategic business plans for organizations, head-ing project management teams, and streamlining operations. Ms. Carlson received her Master's from Georgetown University's School of Foreign Service, where she studied International Business-Government Relations and Foreign Policy. She received her B.A. in Psychobiology from Mount Holyoke College.
JAY SCHWEIG, formerly a Research Associate and Editor at the Institute for Socio-Financial Studies, is a doctoral student in the Mathematics Department at Cornell University. He was an administrator and assisted in the development of and taught three mathematics enrichment courses at George Mason University (GMU), where he also taught several additional math courses. Mr. Schweig earned his B.S. in Mathematics, summa cum laude, from GMU. He received the Mary K. Cabell Award to the Outstanding Mathematics Student and an Award for Academic Achievement in Mathematics. He was an editor and writer for the Expulsion newspaper at GMU.
______________________________________________________